INDEPENDENTLY OWNED & FASTEST GROWING
HOME INSPECTION SOFTWARE
Inspector Toolbelt™ is the fastest, most effective home inspection software on the market with a built-in back office. Works online, offline, and your data is always safe. Our software is built by inspectors – so we know how the industry works, what you need to be efficient, and how to help you get home at the end of the day without having to write reports until midnight.
The Best Reports
Our reporting software (with optional AI integration) makes your inspection faster and more thorough, while making the reports easy to read and use by the client and agents. Agents will love the layout and style, and our back-office system will keep marketing your services without you lifting a finger after the inspection.
TRUSTED BY REAL INSPECTORS
Real home inspectors using our app – day in and day out. See what just a few of our users have to say – no filters, no fancy camera crews, just truly professional home inspectors who love our app!

"It Cut My Report Time in Half"
"By far the best home inspection software I have ever used"
Review from Capterra

"Great Reports and Customer Service"
"Great home inspection and scheduling software!!"
Review from Getapp
ALL THE FEATURES YOU NEED
Our home inspection software is built for inspectors – and by inspectors. We created all the features you need, and put it into an interface that is simple (and doesn't require you to throw your computer out of the window trying to learn how to use it)
FAST REPORT WRITING TIME
Our software is built to work like you do. You can change, adapt, and rework the software to meet your needs. Our fast interface makes it so that you click less buttons for every piece of information added.
BACK OFFICE BUILT IN
We are more than "just home inspection software", we provide you with automated tools that send agreements and collects signatures, sends out reminders, collects payments, provides you with reports, and much more.
AUTOMATED MARKETING BUILT IN
Keep in touch with agents and clients by sending follow-up emails and text messages to keep in touch. Keep your reports and other documents in Inspector Toolbelt to keep your clients and agents coming back for quick reference.
MOBILE AND DESKTOP INCLUDED
With Inspector Toolbelt you can complete your reports as you inspect, or finish your reports in the office before you send it out. Our inspection teams feature also allows you to monitor your inspectors' while in your office as they inspect, and help them with the report writing.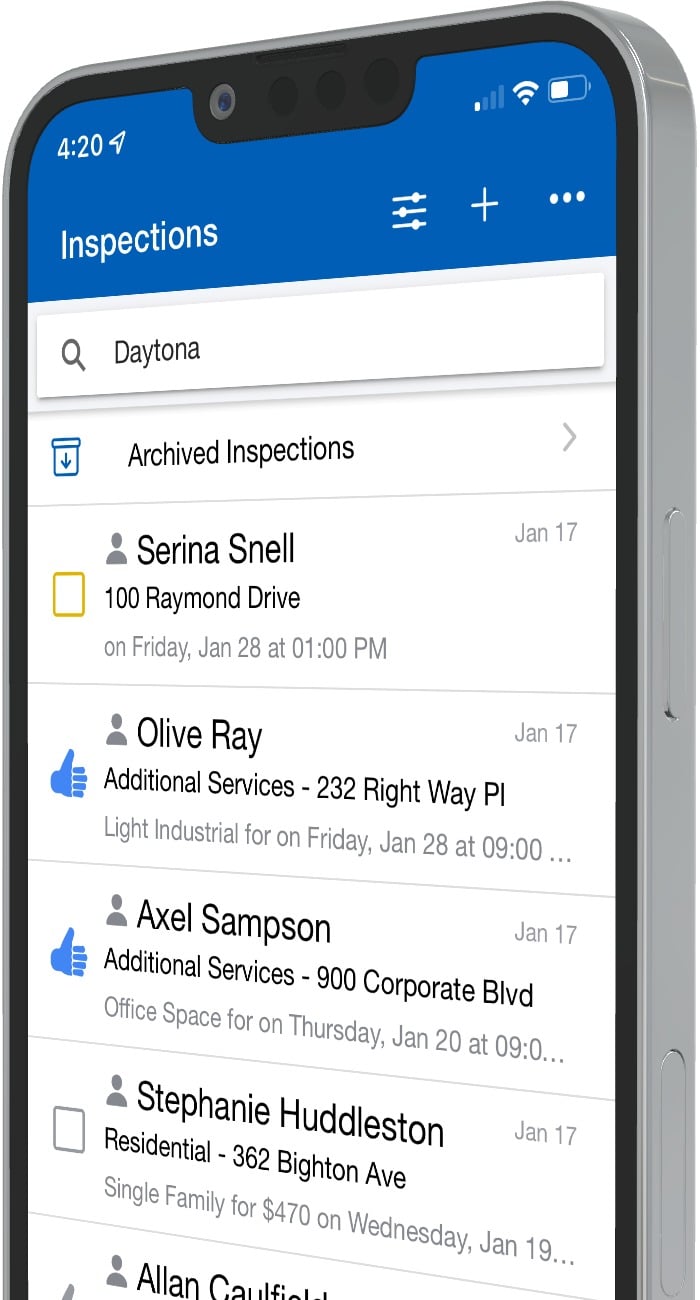 FREE SCHEDULING SOFTWARE
WHETHER YOU USE OUR INSPECTION APP OR NOT!
Why is it free? Being totally upfront – We are so confident in how awesome our home inspection software is that we give you the scheduling app in the hopes that eventually you will try out our home inspection app. We don't provide your information to anyone, and we strictly follow our Privacy Policy.
Whether you choose to use our scheduling software or not, you can use our completely FREE home inspection scheduling software. It includes features such as custom agreements and signatures, custom reminder email notifications, client portal, contacts, integration with other software and programs (such as Google Calendar, the InterNACHI Buy Back Guarantee, Square, and more), Payment collection, report delivery, and much more.
FREE ONLINE & BACK-OFFICE SCHEDULING
Have your clients & agents schedule online with our convenient scheduling system, or have your office schedule on the back end.
AGREEMENTS & BILLING
A full agreement system is included, as well as a billing system integrated with Square – all through your free client portal. Keep track of your referring agents, company statistics and revenue, and much more.
AUTOMATED CONTACT WITH CLIENTS & AGENTS
Automate report delivery and send automated reminder and follow-up emails to clients and agents.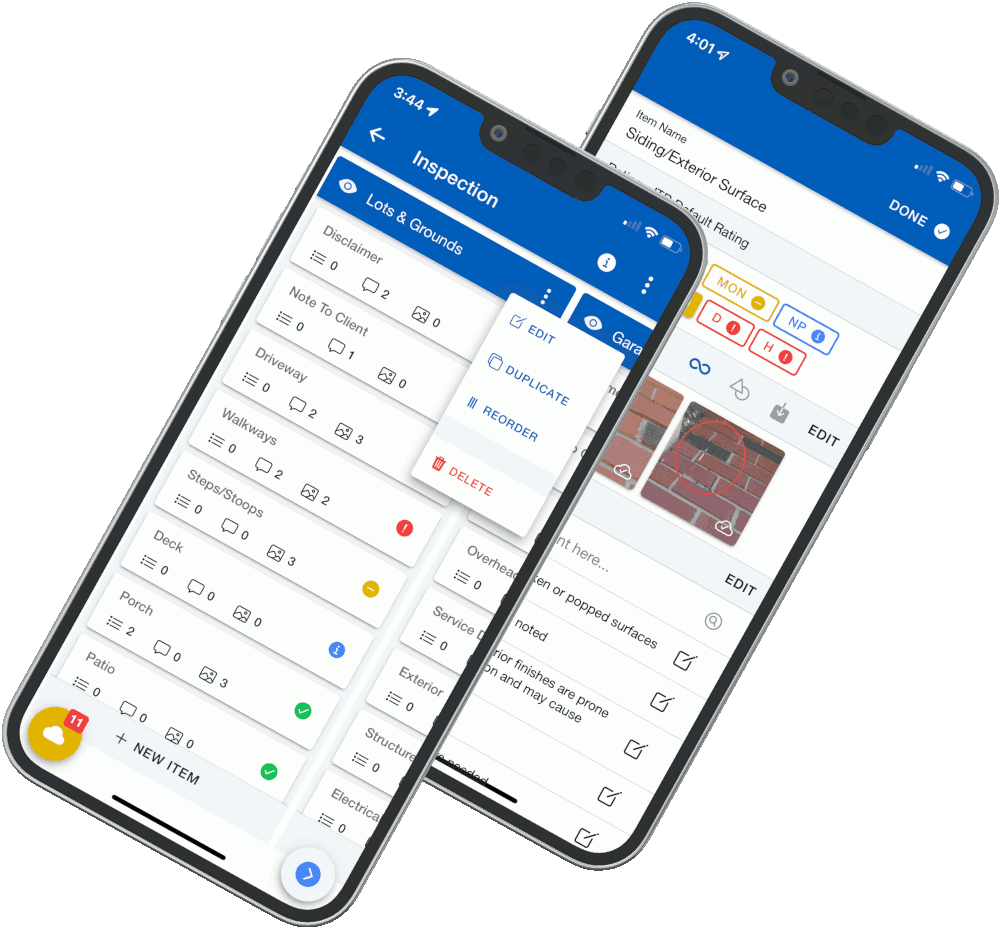 We Make Inspecting Easier
With our software, you literally click less buttons. Every defect is entered faster than other home inspection software, and that saves time and allows you to focus on what you do best – inspections. Get 5 FREE INSPECTIONS – No credit card, no watermark, just 5 free reports on us!
TRUSTED BY INSPECTORS
WHAT INSPECTORS SAY
"Really simple to use and to set up. Having Inspector Toolbelt was a great business choice and my clients and agents really like it"
"Very professional and helpful service!"
"No more running around trying to get and confirm appointments. I am really happy I signed up"
HOME INSPECTION SOFTWARE THAT DOES IT ALL
FULLY AUTOMATE YOUR BUSINESS
With a full, automated back office, and the best front end features – you can fully automate your inspection business and have more time to do the things you love.
Digital Reports
Our reports are digital, easy to read, and impress both agents and clients. Armed with our reporting software – you will be a marketing force to be reckoned with.
Online Scheduling
Our online scheduling system truly helps you to automate your business. Your clients can book on your website, or you can schedule on the go yourself.
Team Inspections
Our team inspections make your office work a breeze. Collaborate with your other inspectors on-site, in the office, or just about anywhere.
Automated Marketing
We are more than "just home inspection software", we have a back-office platform that makes marketing and networking with agents a breeze.
Agreements & Payments
Fully automate your agreements and collect payments with Inspector Toolbelt. Our intelligent system sends, collects, and stores signatures, invoices, and more.
Document Storage
Store all of your completed documents and contacts all in one place with unlimited storage. Quickly find the information you need when you need it.
Automated Emails/SMS
Send automated email and text message reminders to clients and agents without ever touching your phone or computer with Inspector Toolbelt.
WE ARE FULLY INTEGRATED!
We fully integrate with the following software and programs – including Square, The InterNACHI Buy Back Guarantee, Google Calendar, and more. We are always adding more integrations to make your experience with us as seamless as possible.
FAST – EFFECTIVE – EASY TO USE
THE BEST HOME INSPECTION SOFTWARE
With the fastest interface for home inspection software, the most effective tools, automated marketing, and many other features – Inspector Toolbelt™ is the right choice for your home inspection company. Try us today – no credit card needed and 5 FREE reports. No watermarks, no fees, just 5 completely free reports to try us out. See why so many choose us for their home inspection software!
Summary
Author Rating





Software Name
Operating System
Software Category
Price
Landing Page